Refusez PRISM, le programme de surveillance globale des données de la NSA. Arrêtez de déclarer vos activités en ligne au gouvernement américain avec ces alternatives libres aux logiciels propriétaires.
Gaupol is an editor for text-based subtitle files. It supports multiple subtitle file formats and provides means of creating subtitles, editing texts and timing subtitles to match video. The user interface is designed with attention to batch processing of multiple documents and convenience of translating.
Gaupol should run on all Unix-like (GNU/Linux, *BSD, etc.) operating systems and on Windows. Technically, it should run on Mac as well, but that has not been tested nor made convenient. Gaupol's user interface is based on the GTK+ toolkit and has been designed to best fit the GNOME desktop environment.
Gaupol includes a separately installable, user-interface-independent, general-purpose Python package called aeidon for reading, writing and manipulating text-based subtitle files. See the development page for details.
Gaupol is free software released under the GNU General Public License (GPL).
DeepSound is a steganography tool that hides secret data into audio files - wave and flac. The application also enables you to extract secret files directly from wav, flac, wma lossless or audio CD tracks. DeepSound might be used as copyright marking software for wave, flac, wma and audio CD. DeepSound also support encrypting secret files using AES-256(Advanced Encryption Standard) to improve data protection.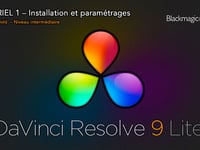 Aujourd'hui, c'est l'application DaVinci Resole 9 Lite que nous souhaitons vous faire découvrir. C'est Greg Cervall qui vous présente ce tutoriel consacré au logiciel d'étalonnage de BlackMagic Design. Il va vous montrer comment télécharger, installer et bien paramétrer DaVinci Resolve 9 Lite.
Au programme :
• petite introduction de DaVinci Resolve ;
• téléchargement de l'application sur le site de BlackMagic Design ;
• passage de votre Mac en 64 bits ;
• connexion et premiers paramétrages de DaVinci Resolve 9 Lite ;
• petit tour d'horizon de l'application.
Redshift adjusts the color temperature of your screen according to your surroundings. This may help your eyes hurt less if you are working in front of the screen at night. This program is inspired by f.lux (read here for the reason why I started this project).
Ce site regroupe de nombreux supports de cours informatique portant sur divers domaines , réseaux informatique, programmation informatique, programmation web, base de données, conception et analyse, Bureautique, système d'exploitation, architecture des ordinateurs, sécurité informatique et autres domaines d'informatique .
Les cours et formations informatiques que vous pourrez trouver ici sont toutes à télécharger gratuitement et sous divers formats : doc, ppt, xls, pdf, ps, tar, rar, zip.
KeyRocket recommends keyboard shortcuts while you work,
where it matters!
Secure-USB is an easy-to-use portable file encryption software.It implements strong 256-bit AES encryption to encrypt data.
It uses users hashed password as key to encrypt & decrypt data,so it is strictly adviced to decrypt all files before changing password.
Les clés USB ont envahie notre quotidien. J'ai toujours ma clé avec moi pour récupérer des fichiers ou avoir sous la main ma collection de logiciels portables.
Désormais, je n'utilise quasiment plus les lecteurs optiques pour installer un OS par exemple. Je passe systématiquement pas une clé USB, bien plus pratique et performante.
Avec un temps idéal pour déprimer, rien de tel que de penser aux vacances (au soleil???) qui approchent ou se préparent.
Une petite liste d'applications bien pratiques pour préparer et optimiser son voyage. En prime, une jolie infographie qui retrace cette liste d'applications …
Welcome to Shaarli ! This is a bookmark. To edit or delete me, you must first login.